Since going gluten-free 4 years ago I've been on the hunt for the best gluten-free bread. I've tried many overpriced, nasty, gluten-free breads, and a few that taste alright. But the best and most affordable option (other than my Grandma Jan's homemade gluten-free bread) is Bob's Red Mill GF Pizza Crust.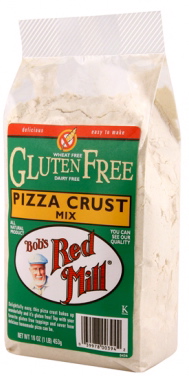 If you follow the directions perfectly the dough rises and results in a chewy and delicious versatile bread. It is the best GF pizza crust that I've had anywhere.
Last week I was in the mood for cinnamon rolls and so I pulled out Bob's pizza crust, added some cinnamon, honey, and butter and made some very tasty morsels.
Yesterday I made mini pizza crusts in place of pita bread with a Mediterranean meal. Mmmm!
Today I toasted a few of the leftover pita and spread some cream cheese on them in place of a bagel. As I was enjoying my afternoon snack and thinking of how versatile the bread was I decided…
I'm going to make mini pizza crusts all the time and freeze them so they are ready any moment for any occasion.
Important tip:
Lay out parchment paper before putting the dough on the cookie sheet. Trust me. It will save time and dough.